SCOTT STAPP ANNOUNCES NOVEMBER TOUR DATES IN SOUTH AMERICA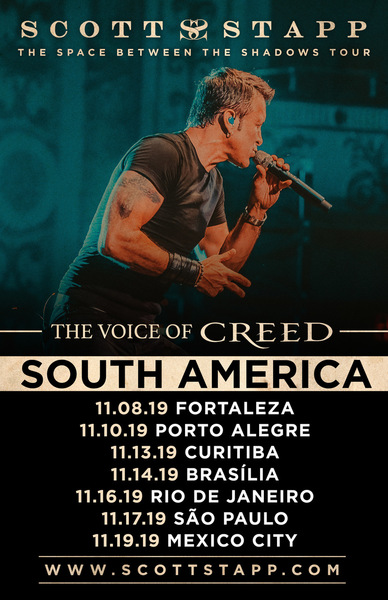 Scott Stapp has announced South America tour dates in November to celebrate the release of his chart-topping new album, The Space Between The Shadows (Napalm Records). The first album in six years from the Grammy-winning songwriter, platinum solo artist, and voice of Creed is a certified musical comeback that debuted in the Top Five and Top Ten on rock and album charts in the US and UK. Tickets will go on sale on Thursday 29th August @ 12pm BRT.
11/8/2019 - Fortaleza, Brazil @ Complexo Armazém
11/10/2019 - Porto Alegre, Brazil @ Araújo Vianna Auditorium
11/13/2019 - Curitiba, Brazil @ ReConcert
11/14/2019 - Brasília, Brazil @ Toinha Brasil Show
11/16/2019 - Rio De Janeiro, Brazil @ Circo Voador
11/17/2019 - Sao Paulo, Brazil @ Audio
11/19/2019 - Mexico City, Mexico @ Plaza Condesa
The Space Between The Shadows re-introduced Stapp as an evolved artist at the top of his game, musically, physically, and personally. It reflects the technicolor clarity of five years of sobriety, self-awareness, and a commitment to connect with others as Scott roars, rages, and copes with personal and universal injustice.
An advance-track campaign made several new songs available prior to album release. The early availability resulted in US tour dates where sing-alongs for the new anthems rival Scott's arsenal of megahits, all of which are performed each night. New fan favorites include "Purpose For Pain," about finding meaning in life's struggles; "Face Of The Sun," a heavy rocker that ignites the spirit; "Name," about ending destructive cycles; and "Gone Too Soon," which honors musical peers and other victims of unexpected tragedy.