Interview with Rock Chicago Magazine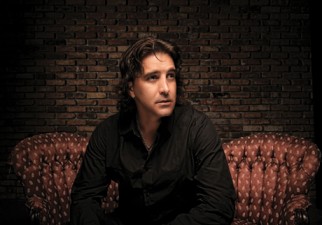 Scott Stapp is an American musician, singer-songwriter, and philanthropist. He is also the lead vocalist and lyricist of the rock band Creed, of which he is a founding member. His debut solo album, The Great Divide, was released in 2005. A second album, Between Lust and Love, is currently in production.
Despite various criticisms and controversies, Stapp is recognized as one of the most successful artists of the modern rock era and has won several accolades, including a Grammy Award for Creed's song "With Arms Wide Open" and numerous RIAA certifications. In 2006, Hit Parader ranked Stapp as the 68th greatest heavy metal vocalist of all time.
I recently chatted with Scott Stapp about the release of his brand new memoir "Sinner's Creed."
————————————————————————————————————————————————-
KP: What prompted you to write this memoir?
Stapp: Well, that wasn't my original intention. Some time ago, I began writing a journal of my life experiences while I was in rehab and really started to dig deep into my past. That process led to partnering with David Ritz and it happened organically. Once we started collaborating on Sinner's Creed, we knew the book had a purpose.
KP: How much did you feel the need to protect your family from back then until now?
Stapp: I have dealt with what I call bullying from the media and sometimes just random people, who posted online, etc., which contained distortions of the truth and vicious personal attacks. This issue started before much of my publicized personal issues, which then fueled topics and rants even more. It was important for me to address these incidents honestly in my book, Sinner's Creed, take responsibility, as well as write the reality and truth of each situation.
KP: How has music changed your life?
Stapp: I was at PS22 performing with Gregg Breinberg's Chorus in Staten Island during the book tour and after we sang my new song, "Sinner's Creed: Pray for Sunrise" and "With Arms Wide Open", I sat down with the kids and told them about my introduction to music. It started when I was about 8 years old. I was always in trouble in school when I was younger and one day a music teacher invited me to audition for the choir. Long story short, finding my voice at that age and having my love for music nurtured by this music teacher changed my life completely.
KP: In your opinion, what will surprise readers the most about Sinner's Creed?
Stapp: My childhood. I have never spoken publicly about the intimate details about the abuse before writing "Sinner's Creed."
KP: How much of an inspiration did Jim Morrison mean to you?
Stapp: Jim Morrison inspired me to approach lyrics as something that had legs to stand on its own. To approach lyrics as something poetic and create words as a true form of art that would eventually paint pictures. I feel another songwriter and lyricist that impacted tremendously was Bono from U2. I felt Bono approached the lyrics the same way and was right on point with a genuine human experience. Although we are extremely different men, I feel that both Morrison and Bono deeply impacted me on every level during my infancy as a songwriter.
KP: How has your life been since Creed?
Stapp: Well, it's been a roller coaster, brother. I talk about it in my book. I experienced an overwhelming success with Creed and I've experienced some of my lowest lows because of my addictions and battle with depression. We just finished touring the U.S. twice and after my book tour, for the first time, Creed will head overseas to perform for our fans in Indonesia and South America. We are very excited about that.
KP: In the book, you expose the band members of Creed in a new light. How are the band members taking what you reveal in the book and what you share about them?
Stapp: They seem okay. I talked to them about my book when I was writing it. It's an honest account of what happened.
KP: In the book, you mentioned a second solo album. Will that ever happen?
Stapp: Most definitely. I released a new song to accompany the book, called "Sinner's Creed: Pray for Sunrise." I will begin recording my new solo album later this year and we are looking to release it in late Jan-mid Feb 2013.
KP: Will you ever release a Christian album?
Stapp: I have wanted to do a gospel album for a long time. I grew up on gospel music, so it's in the core of who I am. As far as a "labeled" Christian album, I'm going to keep writing from my heart, being honest. I love rock & roll and I love God. For a long, long time I thought the two could not coexist. Ironically, I unintentionally proved that assumption wrong. My music is a reflection or commentary of my journey through life. Whether that be emotionally, spiritually, personal soul searching, or daily experiences — my faith is apart of who I am and will forever be expressed in my music, whether it is about my struggles, my questions, my doubts, my fears, and above all, the love. Call it whatever you want, but faith and spirituality are a shared human experience. We are all on different paths and I've learned my expression of that in music has connected with many people regardless of whatever spiritual path they may be on.
KP: What was the hardest song you ever wrote?
Stapp: I suppose it would be my new song that is available with the purchase of my book. I started writing "Sinner's Creed: Pray for Sunrise" in 2007 but couldn't figure out how to finish it. It wasn't until after I completed the book that I was able to finalize the lyrics of the song and eventually it has become the soundtrack of my life.
KP: What song that you've written means the most to you?
Stapp: "With Arms Wide Open" means a lot to me. It is about the birth of my first son, Jagger. Every time I sing it, it takes me back to the time when he was born, which was an incredible feeling.
KP: What do you hope will inspire people by reading this book?
Stapp: I hope it touches people who may know someone or maybe they are personally going through a struggle with life in general and they don't know how to escape addiction or depression. Many people have told me they feel a common thread between my story and their lives, so I hope that is true for many folks.
KP: In the book, you describe your relapse. How supportive was your family in your darkest times?
Stapp: Very supportive. If it wasn't for my wife, Jaclyn, I don't know where I'd be right now. It wasn't always easy for her, but she stood strong by my side and we weathered the storm together. My family is very proud of our journey together, where we are today and getting through the ups and downs. Unlike my childhood, our home is filled with unconditional love, forgiveness, no judgments and honesty. We are all accountable to each other. My family is the most important thing in the world to me.
KP: Describe your relationship with Mark Tremonti.
Stapp: Well, we go way back. He is a great musician and we have written many songs together – we have a connection that will never go away. I want him to be successful in everything he does and I think he feels the same way about me.
KP: Steve Stapp is mentioned throughout the book. Describe your relationship with him and how he affected you growing up.
Stapp: Well, he definitely changed my life. He wasn't the typical loving and nurturing father. He truly believed that punishing me the way that he did was the only way to save my soul. I talk about the extreme abuse in my book. It wasn't easy to relive it, but it was also cathartic to regurgitate those painful memories so I could continue to heal.
KP: Where do you hope to go from here?
Stapp: I can only take one day at a time. So, today, I'm focused on my family, sharing my story, "Sinner's Creed" with fans and always remembering my faith. Tomorrow is another day and I continue to pray for the sunrise.
Be sure to pick up Scott Stapp's new book "Sinner's Creed" at a bookstore near you.
Article quoted from: http://rockchicago.net/interview-with-scott-stapp-from-creed/